WEBCentric joins Total Specific Solutions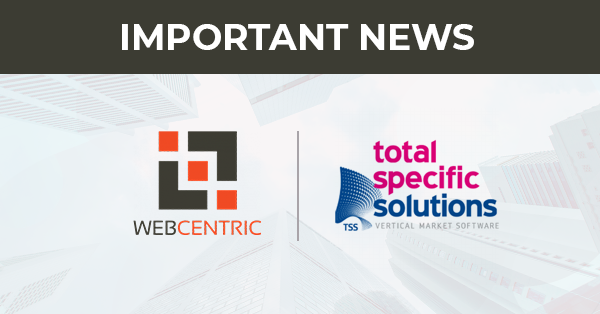 WEBCentric is a software development company based in Belgrade, Serbia. It specializes in Web application development – whether the clients need an app update or a development of a new application. The company is also well-established in eCommerce app development and general e-business in the Serbian market. While working with different clients, WEBCentric noticed a growing need for price monitoring services. As it was almost impossible to do it manually, they decided to make their own software called Price2Spy and offer it to the world. Today, Price2Spy has more than 700 customers worldwide.
In recent years, WEBCentric has diversified its activities by adding 2 more SaaS products to its portfolio: JustLikeAPI (service for capturing online reviews) and BotMeNot (service for measuring a website's vulnerability to scraping bots)
More information can be found on the website: https://www.webcentric.co.rs/en/
Total Specific Solutions (TSS) is a global provider of IT business solutions based in the Netherlands. TSS has over 109 independently managed software Business Units in Europe. TSS's strategic guidance and experience gathered across many different industries and geographies help companies become more efficient in delivering their products to specific vertical market segments. TSS has a great understanding of the dynamics of each vertical market where they operate – automotive, agriculture, healthcare, real estate, retail, hospitality, and many more.
It's important to note that WEBCentric will become the first company from Serbia to join the TSS group.
More information can be found on the website: www.totalspecificsolutions.com
What makes TSS and WEBCentric such a good fit?
WEBCentric is an excellent addition to TSS's portfolio of companies for several reasons. This software development company specialized in Web applications has started as a small one-client business. After a couple of years, they created their own software called Price2Spy, which is now used by over 700 clients around the world. Despite its success, WEBCentric still has the desire to progress and learn, especially when it comes to sales processes, which TSS has mastered over the course of 14 years, in the more than 100 companies they own. Moreover, WEBCentric, together with its own software solution Price2Spy, will be the first price monitoring software joining TSS so that the knowledge-sharing process will be reciprocal.
What will change in WEBCentric's/Price2Spy's everyday operation?
TSS has acquired a controlling stake in the business, with Mr. Miša Krunić remaining on board as a minority stakeholder. Mr. Krunić will also remain the CEO of WEBCentric, Price2Spy's mother company. That means that both WEBCentric's and Price2Spy's clients will continue to work with the same team and account managers as they are doing now. The only change that they can expect is that Price2Spy will become even better and bigger with the help and guidance of TSS.
Miša Krunić, Managing Director of WEBCentric: "Back in 2011, we started Price2Spy as a pure necessity – we needed to monitor our competitor's prices, and there was no good tool on the offer. Over time, we have listened to our clients and continuously innovated the platform. eCommerce professionals across the globe want to know how their competitors price their products online. Being part of an international software group gives us the backing to further extend the foothold of our platform. As part of TSS, we expect to gain access to a myriad of best practices needed to take our business and organization to the next level."
Daniel Lar, Managing Director at TSS: "We are pleased to welcome our first Serbian company, WEBCentric, with its solution Price2Spy, to TSS. Price2Spy is an international price analysis solution with customers around the world. Miša Krunić started the company in 2005 and the online platform in 2011. The eCommerce business is highly competitive, and back then, there was no easy way to monitor the prices online, so Price2Spy was developed to fulfill this need in the market. It is a real customer-centric company and thus a good match with our TSS approach. It started with three customers back in 2011 and now has hundreds of customers in many different countries, which is impressive. It made the company a perfect candidate to start a collaboration based on mutual ownership going forward, where Miša will stay on as a shareholder of the business. I am looking forward to working with Miša Krunić and the people at WEBCentric / Price2Spy."
At WEBCentric, we are looking forward to being a part of the TSS group. Our customers expect constant improvements from us, and this cooperation will contribute to that. We are looking forward to new beginnings and starting this exciting journey!
More Information:
WEBCentric
Miša Krunić
Managing Director
Email: misha@webcentric.co.rs
Total Specific Solutions
Daniel Lar
Managing Director
Email: d.lar@tss-vms.com