WEBCentric sponsors local football team in Novi Kozjak
If you have followed us carefully, then you remember that we informed you that we were chosen as one of the 5 best HR stories. The project that nominated us is one that we are perhaps most proud of – opening an office in Novi Kozjak.
Novi Kozjak is a small village in the municipality of Alibunar, which, like similar places, faces many problems. We may not be able to solve everything, but we have decided to help where we can. Even before the pandemic, the IT industry was the loudest spokesperson of flexibility, but we wanted to turn words into deeds.
We opened an office in Novi Kozjak and in that way contributed a lot to their local development. The office has about 40 employees, who are enabled to stay in their hometown while advancing in their careers. Some of our colleagues already had IT education, but simply did not have the desire to move to the capital city (Belgrade), while we provided adequate training to others who didn't and they are now fully competent to contribute to the team.
But, there is one fact that you weren't familiar with. Some of our employees are football players in FC Crvena Zvezda Novi Kozjak.
They are competing in the local municipal league and they did not have much success due to a lack of financial support and other necessary resources. We recognized that besides happiness in the working hours, our colleagues would be even happier with the support outside of the office – in this case on the playing field.
This is why and how we became sponsors. Guys are wearing the company logo on their chests and since they've got our support, they have won 2 games in a row.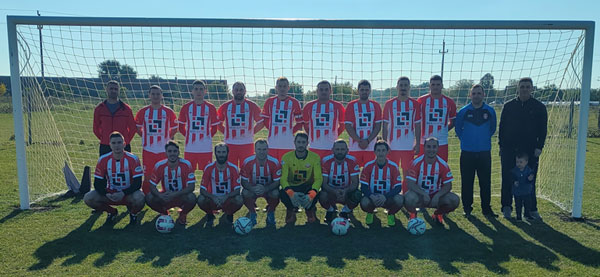 There seems to be something in the fact that football is the most important sideline in the world, right? 🙂